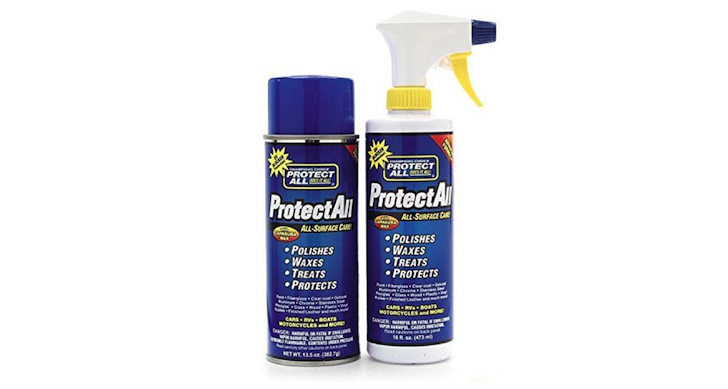 Are you struggling to find the right product to get your RV looking like new again?
In our research for the best product to wax your RV with, Protect All All Surface Cleaner ($20) came recommended by 2 out of 9 RVers.
Protect All won't harm your RV's decals or fade plastic fitting covers.
Just spray on a bit of Protect All, and use a soft cloth to wipe off. You can also apply the Protect All to a cloth first, and then rub it onto the surface of your RV.
The UV inhibitors in the formula minimize damage to your camper's fiberglass finish.
I detail cars and Rvs and am a big McGuires car product fan. But as far as a wax for RV Fiberglass this Protect-all has them all beat, plus it also has UV inhibitors to screen out hamfull sun rays to your fiberglass finish. I started using this product 12 years ago on a new RV and used it a few times a year it goes on extreamy easy and you dont need very much at all and it comes off just as easy leaving as good a long lasting shine as one can exspect. My travel trailer at the time looked new till I sold it 10 years later only using Protect-all I have used it on 2 other RVs I owned.
Another advantage to this product is that it's not just a wax, and you can use it to clean windows or the interior of your rig or tow vehicle.
Resources: