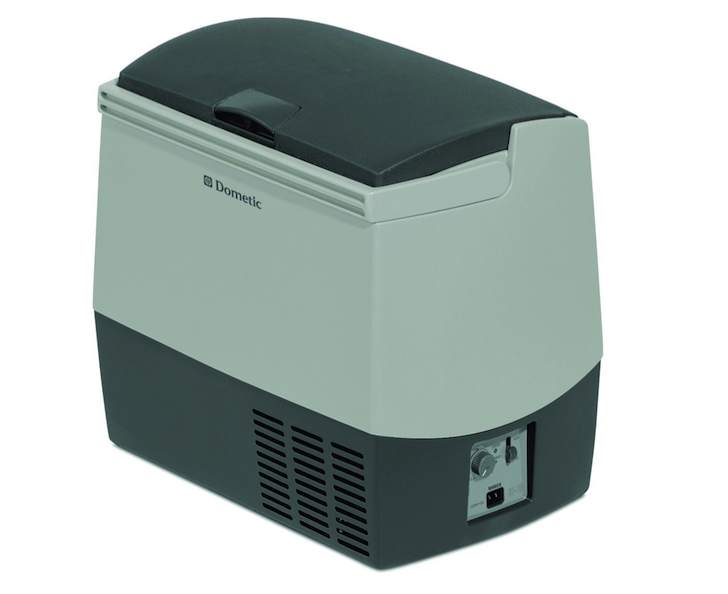 Love camping but hate to miss out on a cold beverage?
The Dometic CF-018DC Portable Freezer/Refrigerator ($352) will let you take your frozen and chilled items with you wherever you want to go.
And with it's 0.7 cubic foot capacity, you can bring along twenty three 12 ounce cans for your friends!
The unit weights about 25 pounds, and is 18″ long, 16″ high, and 12″ wide.
A high-quality Danfoss compressor keeps things cold, and doesn't make nearly as much sound as a regular household refrigerator.
To power the unit, simply plug the cord into your vehicle's cigarette lighter plug.
Here's what one purchaser thought you should know before buying,
This fridge only comes with the 12v lighter connector for power. You can purchase a110v hookup through the RV websites but it is pretty expensive. I didn't mind only having 12v because it provides plenty of power to cool. In my van I have a battery charger that replenishes the batteries when I have the generator going but the fridge doesn't draw a lot of power because though I ran it all night it never shut off… It has a low voltage protector do it doesn't completely drain your battery.

It's very quiet. Though we had it in the van while we were sleeping it didn't keep us up. A low hum is all you will get and a dripping sound when the compressor shuts off. Very impressive if you will be sleeping next to it.

Finally, its very cold. We just took it camping and it was quite warm out. I turned it up during the day but only to about 3/4 of the potential. When it cooled off I turned it way down. In the morning were still had a container of frozen eggs. Plenty cold to keep I've cubes frozen for drinks.

The only issue you may have is space. The compressor hump does make half the cooler have less space. The other side can fit a couple 2 liter bottles. They say the whole thing can fit 23 cans, I haven't tested that theory yet. We fit some mixers and a number of cans and some food as well. It wasn't as imperative to us to fit all our food because we had the Westy fridge as well. I was fine with the amount of space it had. It also has a divider provided to separate your stuff on either the compressor side or the other side.

In short I feel this was a great purchase and will greatly help our camping. No need to buy and replenish ice!