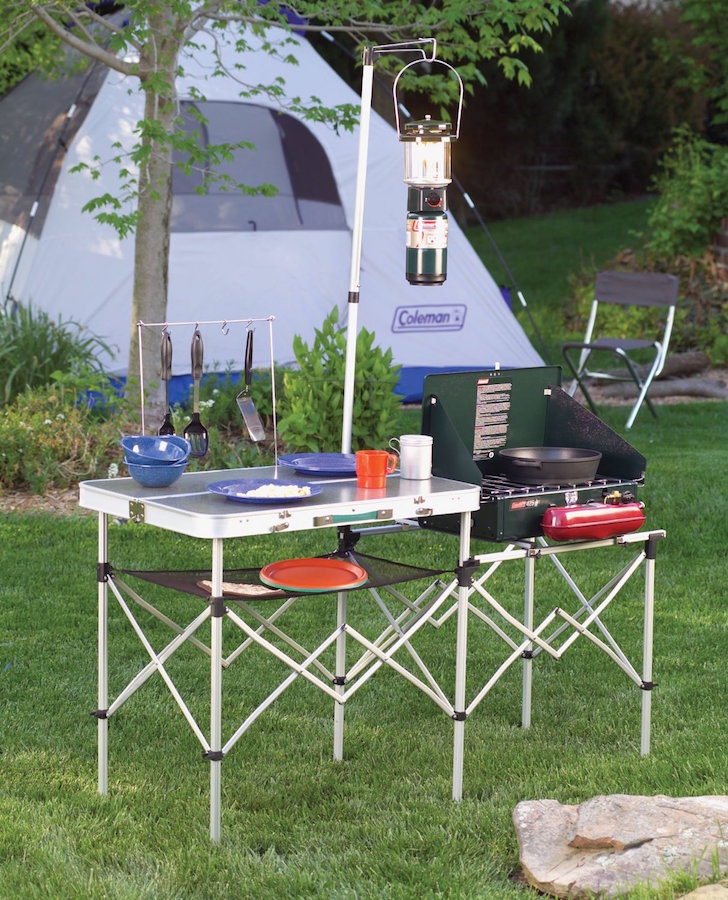 With a 24 x 24 inch cooking space and a generous 32 x 24 inch prep area, this outdoor camp kitchen has room to cook for the whole crew!
The cooking space adapts to most Coleman propane stoves and will accommodate other brands as well.
It packs into its own 32x11x4 inch self contained carry case for easy storage. The whole kitchen weighs less than 12 pounds and has great features like an integrated lantern hook and mesh storage shelf.
Packing heavy? Don't worry. The reinforced legs will support up to 100 pounds of supplies and gear. So bring along those extra cuts of meat!
While one reviewer complained about the lack of room for an extra propane canister, most buyers were overwhelming positive. D. FRENETTE said,
The utility of this product is astounding. The stove shelf is situated at the perfect height. The table is the perfect size and at the perfect height. Added utilities like the net to hold veggies and the lantern holder just put this one over the top. The caveat is to be careful setting it up and taking it down. Slow down and think about what you are doing- the lattice frame structure is made of aluminum which is lightweight but you can see how it would bend if you forced it.