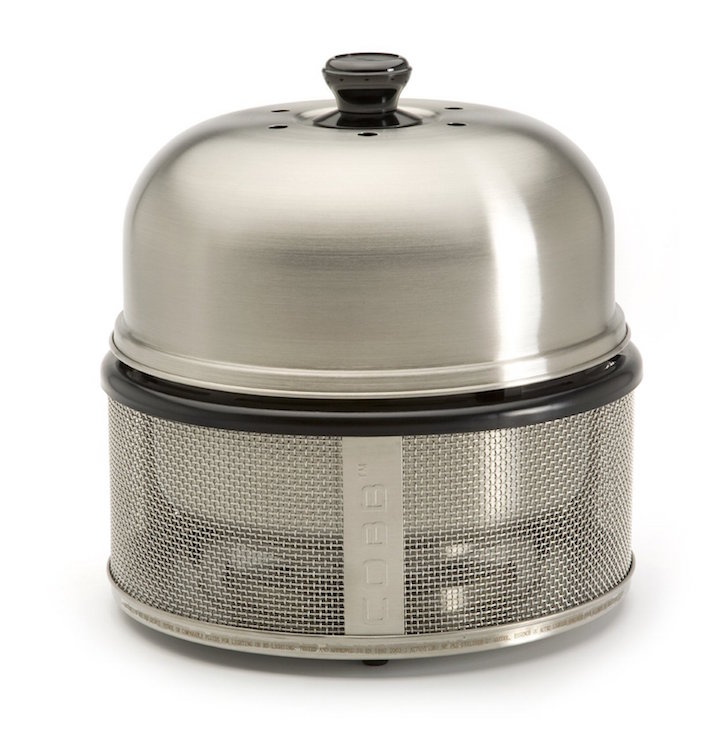 You don't have to leave your grill at home with the Cobb Premier Starter Kit ($240).
You might be wondering what makes a Cobb grill good?
Well, for one thing it cooks just as well as a regular charcoal grill while using far fewer charcoal briquettes (usually only 10-12).
Plus, the outside of the Cobb grill remains entirely cool to the touch.
The Cobb was designed for use in remote areas, where hauling a grill would be impractical. Here's what a couple of Cobb owners had to say,
I've got one and use it all the time. It's fantastic. The Cobb is one of those products that really lives up to what it says. I have the new stainless steel version, which replaced my old one with the plastic base and it is way better. It's just better made and so good looking. The cleanup is not as easy as I would hope but I've found that if I wipe it down while it is still warm, it is much easier.
I have had this grill for about 18months. On average I have cooked on it at least 1 a week in Michigan including the winter. I have no problem getting a good sear on burgers or steaks. I have cooked whole chickens, smoked salmon and smoked a turkey breast. Bottom line….love it.
A unique grease removal system directs fat away from your food for healthier eating.
Included in the starter kit: wok pan, frying pan, roast rack, thermometer, and a carrying bag for easy transportation at the campground.
Resources: