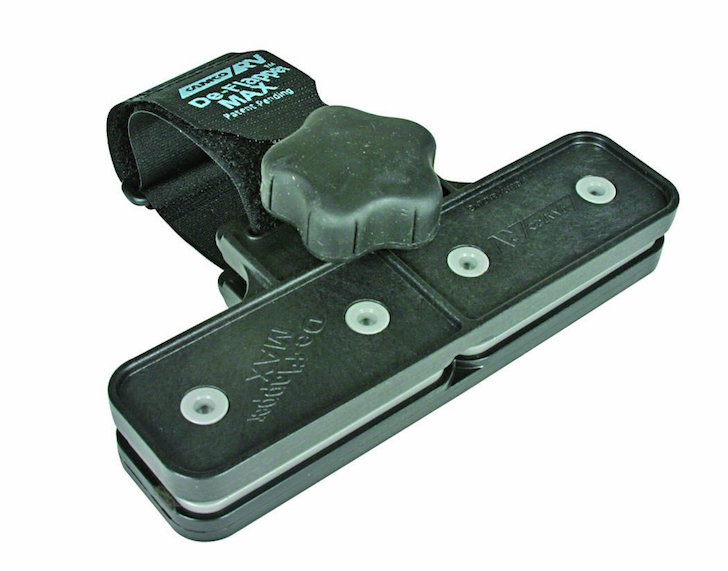 High winds can wreak havoc on your RV's awnings. Camco's De-Flapper Max awning stabilizers will help keep your awnings from tearing apart at windy campsites.
The De-Flapper Max is a patented strap and clamp that binds the sides of your awning to their support arms, preventing the awning fabric from 'flapping' in windy conditions.
The 8″ wide De-Flapper Max comes in a two-pack, so you can install one on each side of your main RV awning.
While Camco also makes smaller De-Flappers, the larger Max version has a wider gripping area and holds up better in high winds.
Watch an overview of the De-Flapper Max by Camco.
Original video by Camco Manufacturing
Transcript:
Hi my name is Terry with Camco Manufacturing and today I'd like to talk to you about Camco's De-Flapper Max.
Camco's DeFlapper is an easy and affordable way to prevent your RV awning from getting rips and tears in it caused by high winds.
The DeFlapper comes in a convenient two pack, so you can install one on each side of the RV's awning.
When you're ready to install, there's no tools, it's a very easy installation.
To install the De-Flapper Max, locate the center of your awning, be sure to choose a location that is near each side's support arm.
Clamp the DeFlapper to the center of the awning by tightening the knob.
Pull the strap through the slot on the back of the DeFlapper-Max.
Wrap the strap around the support arm. Pull the strap through the buckle and secure it firmly.
Always remove the DeFlapper before your awning is rolled up and into the storage position.
We do recommend removing the DeFlappers and closing your awning if leaving your RV unattended.
There may be small errors in this transcript.
Resources: