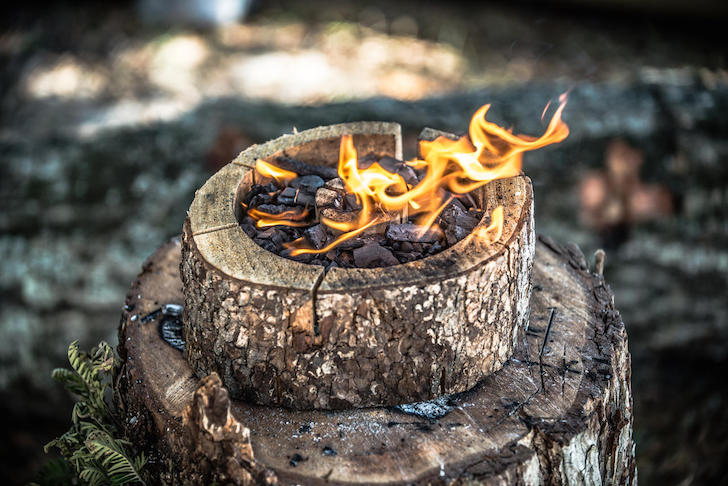 Save time and hassle with the new Burnie portable campfire ($13+). This self-cleaning BBQ grill lights with a single match and will burn for about two and a half hours. A smaller, one and a half hour size is available.
Made of alderwood with a center of alderwood charcoal, simply drop a match into the fire-starter in the middle of the log, and in twenty minutes you'll be able to grill your favorite foods directly on top.
The grill heats evenly, burns itself out, and best of all – you don't have to touch any messy charcoal!
Watch a video interview about the Burnie with The Fit RV.
Burnie: An Easy, Self-Cleaning Campfire and Grill for RVers
Transcript:
Hey everyone it's James from the The Fit RV and I'm here at the 2015 Outdoor Retailer Show with Ross from Burnie.
Now, campfires. I've read a lot of passionate debates on RV websites about campfires, and whether you're the kind of person who has to have a campfire all of the time or only some of the time, this is a product that's going to make that easier.
So Ross, what can you tell us about Burnie, and how does it work for RVers.
Well thanks for coming to see us again James.
So the Bernie is a self-contained, all-natural, wooden grill, manufactured in Latvia out of standard harvest alderwood.
There is alder charcoal in the center, with a fire starter in the middle. So with a single match you can light the grill, and it takes about 20 minutes to heat up so you can cook.
You can cook directly on the grill with a portable grate, a cast iron skillet, or a coffee pot. Or you can utilize a charcoal barbecue grill if you would like.
The Burnie will burn for approximately an hour and a half cook time, but will burn for two, two and a half hours [in total].
It literally burns away to ash, so there's no cleanup whatsoever, you can just walk away from it.
So it's very self contained, really light, just weighs a few pounds. It's super portable, you could load it in the closet of your RV, take it anywhere you want to go. We've talked about burn restrictions, this is a kilned product so it's dried before it's shipped.
It's inspected by the US Department of Agriculture so traveling across state lines shouldn't be any problem at all. Anywhere you're camping that allows wood-burning, the Burnie should be approved.
Awesome, and where do we get these?
Check us out at Burniegrill.com and you'll see them in stores near you coming soon.